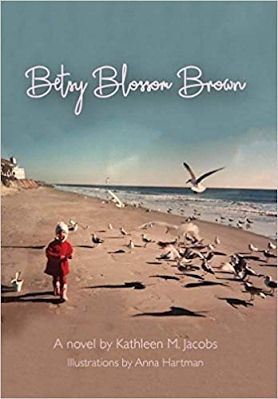 Date Published: June 5, 2019
Publisher: Jan-Carol Publishing, Inc.
Betsy Blossom Brown is a coming-of-age story about a young girl who journeys from being an observer of life to a participant. Her seemingly idyllic life with her privileged South Carolina family is turned upside down, revealing truths and disarming pretensions. She's independent, opinionated, and brave. Uncertainty enters her life when she and her mother move to the Appalachian region until, through a series of unsettling events; she sheds her uncertainty and learns to embrace life. The graphite illustrations help to understand the depth of Betsy Blossom Brown, as she sketches her way through life recognizing her mild Asperger syndrome, without letting it curb her appetite for life.
Fourteen-year-old Betsy Blossom Brown sat on the saffron-colored, vinyl kitchen chair across from her mother, Lily. Lily's opened palms buried her face, and Betsy's elbows rested on the vintage, enameled, red and white kitchen table, the palms of her hands holding up each side of her chin. Betsy and her mother loved this vintage kitchen set. They loved anything vintage. But they loved this set in particular, because it was found on top of a heap of discarded furniture outside a dilapidated beach house on Sullivan's Island. Betsy's chestnut curls concealed her olive green eyes so that her mother would not be able to see every tear that fell from them. Betsy watched in a near hypnotic state as each teardrop seemed to disperse on the shiny, enameled tabletop. She secretly longed to go wherever they were headed—to a place where what she had just been told hadn't yet arrived.
"But I don't understand," Betsy winced.
"I know, Sugar, it's difficult. I don't even understand it, but it is the truth. And ever since the day you entered my life, I made a promise to always tell you the truth, no matter what. Your father thought different. He believed a lie was okay if it meant that you avoided hurting someone. And while that may have a bit of merit, especially with the truth I just shared with you, it's just not the way I see it. And in this moment, I would certainly love to be able to keep this truth under lock and key forever, but sooner or later, you would find out. And then you'd wonder why I hadn't been the one to tell you what happened to your father."
"But why? Why did he do it? I need to know why. I need to know the reason. It's a quirk I've had ever since I was born, Mom. You know that. I always need to know why." Betsy continued to snap at the placket of her front, periwinkle-colored, linen shirt. She loved this shirt most because it had been her mother's when she was in college. It was a bit oversized, so Betsy sometimes belted it with her wide, brown, leather belt. Finding plackets and seams on pockets and collars was something Betsy had done since she was a small child. She seemed to look for them without even thinking, and yet, she was thinking of nothing else.
"I don't know why, Betsy. He didn't have a reason. All he said when I saw him was, 'Lily, dear Lily, I'm sorry. Please tell Betsy that I'm sorry.'"
I turned each side of my hair behind my ears, wiped at my eyes, and looked to Mr. Peabody and Steve as they raced furiously around their cage, stopping briefly to hop on the plastic, multi-colored toy ferris wheel, and tumbled to the tiny pieces of torn comic strips from the newspaper and fleece bedding that lined the floor of their cage. I had begged my mother for pet rats for months before she surprised me with a trip to MacGruder's Pets on Sullivan's Island. My father was out of town at a business meeting (or so, at the time, we thought), and that always presented a prime opportunity for us to charge ahead with plans that he might not have approved. He pretty well knew that whenever he went out of town, my mother and I would retaliate by doing or buying something that hadn't been mutually agreed upon. We thought it was funny; he didn't.
Betsy Blossom Brown walked over to her mother, wrapped both arms around her neck, and picked up the morning paper that her mother had brought for her to read. The front page made her dizzy, like the time she rode the "Round Up" at the carnival. She took the newspaper with her to her room and chose the rigidity of her desk chair to read what she already knew.
LOCAL BUSINESSMAN WILLIAM BROWN
CHARGED WITH EMBEZZLEMENT OF
William D. Brown of Charleston was charged on Friday with embezzlement of client funds from his management firm, Brown & Associates. According to a report released from the FBI and in conjunction with an SEC investigation, which had been conducting their own investigation into mismanagement of funds at the firm and client allegations of fraud from a number of Brown's clients, evidence shows that Brown had been embezzling vast amounts of money from his individual client accounts since he joined the firm in 1994. Brown allegedly skimmed in excess of three million dollars over the past five years. The majority of Brown's clients are retired, live out of state, and have trusted him since he joined his father, the late Joseph Brown, at the firm in 1994, the same year the elder Brown died from a fall while vacationing in the Caribbean after tripping on a sidewalk as he returned to the vacation home he and his wife owned, hitting his head on the concrete pavement and suffering massive bleeding before going into a coma. The senior Brown opened the respected firm in 1969. At the time of his death, the managed assets of Brown & Associates were listed by the SEC at over one billion dollars.
The South Carolina State Police worked with FBI agents and SEC officials in locating Brown on Friday morning after his wife, Lily Park Brown, the only daughter of the late Senator Tommy Park, reported her husband missing. After numerous reports of Brown's physical location, the authorities were led to the lighthouse on Sullivan's Island, where Brown was sitting in a gray flannel suit, starched white shirt, and a perfectly-knotted silk tie, surrounded by an incoming tide that saturated the pillowcases filled with bundled money that encircled him. One FBI official noticed a revolver in Brown's hand, and as he raised it and pointed it to his temple, the trained police German shepherd leapt through the air and seized the weapon, and Brown fell forward.
Attempts to contact Brown's wife or any of the officials involved with the incident and apprehension have been futile.
Betsy reached inside her desk drawer and pulled out a pair of scissors. She cut out the newspaper article about her father, opened the finches' birdcage, and slid the newspaper at the bottom, and then she waited until "Scout" and "Jem" and "Boo" and "Atticus" crapped all over the newsprint. The birds broke into their sweet singsong, and Betsy was overcome with anger. She wasn't sure, though, whether she was angry with her father, with herself for carpeting the finches' birdcage with the morning news, or with the finches for sounding so happy, when she felt anything but, as they flew with seeming madness from perch to perch.
About the Author
Kathleen M. Jacobs is the author of books for young readers. Her first YA-novel, Honeysuckle Holiday, has received critical acclaim. And her children's book, Please Close It! has won numerous awards. She divides her time between New York City and the Appalachian region. She lives with her husband, John, and far too many books. Visit her website at www.kathleenmjacobs.com and on Instagram @kathleenm.jacobs.